Glyn Hudson and I have been working on a new RFM2Pi board revision, nothing revolutionary, just a small upgrade. The most important features of the board are:
Atmega328 based, has more memory and hardware serial support
Runs on the internal 8Mhz oscillator (to save unnecessary components)
SMT used, board layout is optimized for pick-and-place machine; SMT also means it is lower profile compared to the old version thus more compatible with Raspberry Pi enclosures
The board schematics and layout are available on github.
I have few test boards, here is how it looks (this one is hand-built, the solder flux not cleaned yet):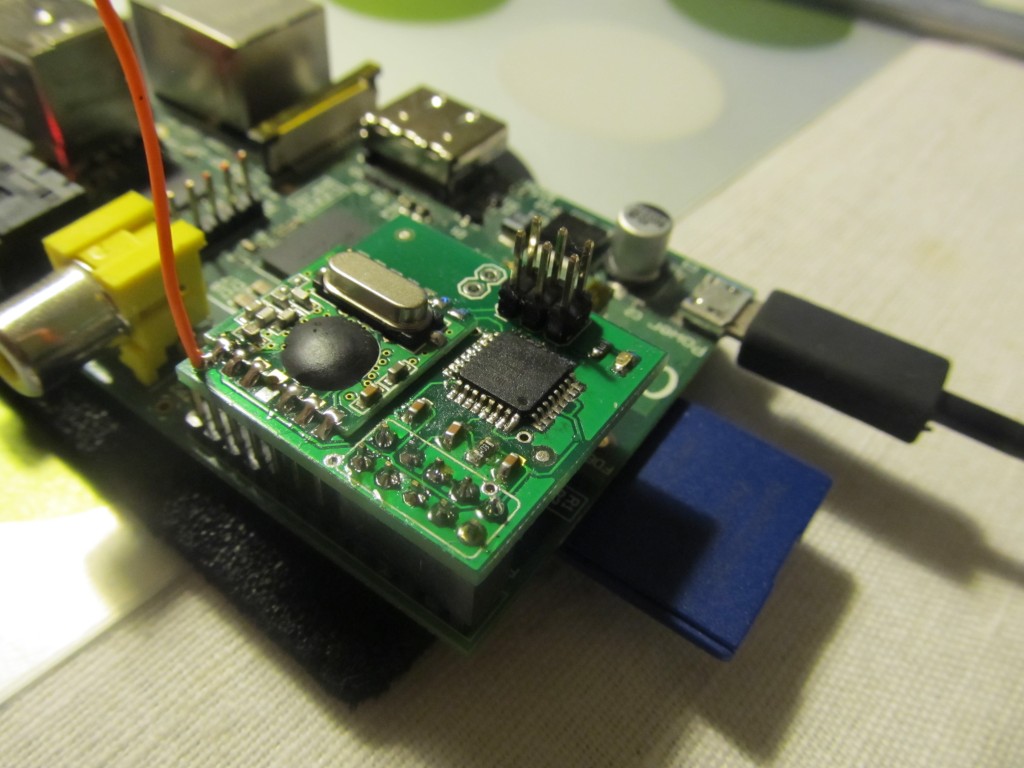 To be able to upload sketches to it, we need OptiBoot installed first. Setting it up is relatively easy (the boards in the shop will come with OptiBoot and the RFM12 demo sketch already installed).
Basically you need a special build for OptiBoot optimized for running on the internal oscillator @ 8Mhz and the optimal for this speed baud rate of 38.4kbps. Excellent work in this setup is described here, let me outline most important steps:
Add a new build option to OptiBoot's makefile
# Standard atmega328, only at 38,400 baud for closer clock accuracy AND using 8Mhz internal RC oscillator
#
atmega328_384_8: TARGET = atmega328
atmega328_384_8: MCU_TARGET = atmega328p
atmega328_384_8: CFLAGS += '-DLED_START_FLASHES=3' '-DBAUD_RATE=38400'
atmega328_384_8: AVR_FREQ = 8000000L
atmega328_384_8: LDSECTIONS  = -Wl,--section-start=.text=0x7e00 -Wl,--section-start=.version=0x7ffe
atmega328_384_8: $(PROGRAM)_atmega328_384_8.hex
atmega328_384_8: $(PROGRAM)_atmega328_384_8.lst

atmega328_384_8_isp: atmega328
atmega328_384_8_isp: TARGET = atmega328
atmega328_384_8_isp: MCU_TARGET = atmega328p
# 512 byte boot, SPIEN
atmega328_384_8_isp: HFUSE = DE
# Int. RC Osc. 8MHz, slowly rising power-65ms 
atmega328_384_8_isp: LFUSE = E2
# 2.7V brownout
atmega328_384_8_isp: EFUSE = 05
atmega328_384_8_isp: isp
 I also changed pin_defs.h to asjust for the LED pin
#define LED_DDR     DDRB
#define LED_PORT    PORTB
#define LED_PIN     PINB
#define LED         PINB1
 Then run "omake atmega328_384_8" , if you run onto errors, make sure to grab the latest optiboot.c
Then we need to add a new entry to our arduino-1.0.1\hardware\arduino\boards.txt. Add an entry like this:
##############################################################

atmega328_384_8.name=ATmega328 Optiboot @ 38,400baud w/ 8MHz Int. RC Osc.

atmega328_384_8.upload.protocol=arduino
atmega328_384_8.upload.maximum_size=30720
atmega328_384_8.upload.speed=38400

atmega328_384_8.bootloader.low_fuses=0xE2
atmega328_384_8.bootloader.high_fuses=0xDE
atmega328_384_8.bootloader.extended_fuses=0x05
atmega328_384_8.bootloader.path=optiboot
atmega328_384_8.bootloader.file=optiboot_atmega328_384_8.hex
atmega328_384_8.bootloader.unlock_bits=0x3F
atmega328_384_8.bootloader.lock_bits=0x0F

atmega328_384_8.build.mcu=atmega328p
atmega328_384_8.build.f_cpu=8000000L
atmega328_384_8.build.core=arduino
atmega328_384_8.build.variant=standard
So with these settings in, I was able to upload the modified OptiBoot using my usbtiny ISP programmer.
I have included a pre-compiled OptiBoot in my github repo.
Next, I plugged the board onto my Raspberry Pi. There is a problem in using avrdude directly, there is a good write up about the issue here, but JCW uses a custom tcl script to upload sketches which he didn't share. The problem is basically to reset the board at the right time and therfore invoke the bootloader so that avrdude can start talking to it. I researched on the available options to work around the issue and found an elegant 2 minute solution by Dean Mao. Basically he uses strace to determine the exact moment when avrdude wants to reset the target board and uses a small python script to perform the reset. The fix is applied as follows:
Make sure you have python installed on your Pi:
sudo apt-get update 
sudo apt-get install python-dev&&python-rpi.gpio
Grab the modified code for the RFM2Pi board from my repo and apply the fix:
cp autoreset /usr/bin
cp avrdude-autoreset /usr/bin
mv /usr/bin/avrdude /usr/bin/avrdude-original
ln -s /usr/bin/avrdude-autoreset /usr/bin/avrdude
With these fixes applied, I was able to use avrdude and upload the RFDemo sketch directly from RaspberryPi:
avrdude -v -c arduino -p ATMEGA328P -P /dev/ttyAMA0 -b 38400 -U flash:w:RF12_Demo_atmega328.cpp.hex
Neat 🙂
[update] The board is now available for sale in the shop