I have already expressed my thoughts on this, and of course could not resist materializing them. The main reason is that I would like to experiment with IR and RF stuff that requires precise timings. The internal oscillator's frequency depends notably on temperature and voltage change and although it can be calibrated, I still prefer crystal. The Funky is already small enough to fit another crystal so the only logical solution would be to use RFM12b's CLKOUT.  I have connected RFM12B's clock out pin to ATTiny84's CLKI pin on the latest Funky sensor, it happens to be quite a short track anyway, so good for keeping interference to minimum: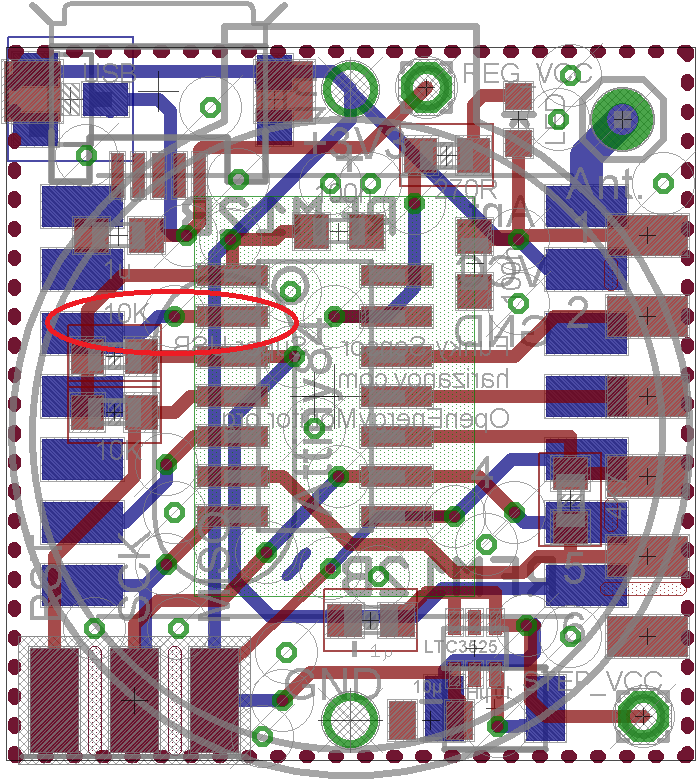 This is entirely optional to use and can be enabled through ATTiny's fuses. Using the AVR fuse calculator, I got the correct fuse values: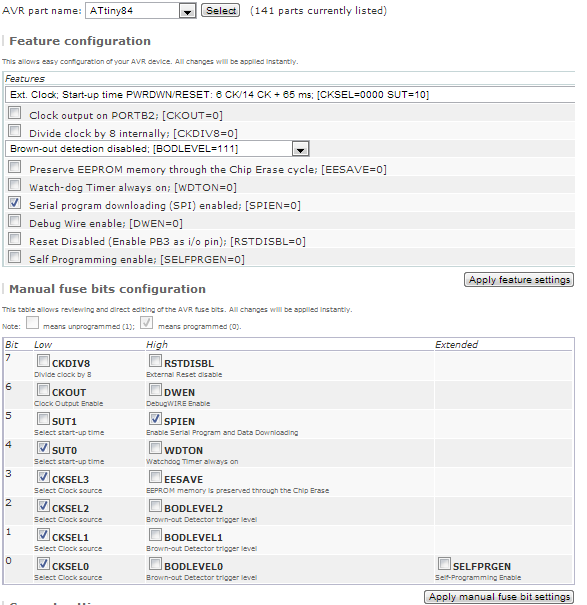 Setting them is easy:
avrdude -c usbtiny -p t84 -e -u -U lfuse:w:0xe0:m -U hfuse:w:0xdf:m -U efuse:w:0xff:m
This instructs the ATTiny84 to be clocked from external clock and not the internal oscillator.
Next, I looked up on how to drive the CLKOUT pin on the RFM12B. Jeelab's jeelib disables CLKOUT on RFM12B first thing upon calling rf12_initialize, so that called for changes. I have looked up the RFM12B command using Jeelab's calculator, and identified the necessary changes:
Basically Jeelib keeps the CLKOUT disabled, and I had to make sure this doesn't happen or our MCU will hang clock-less. Another thing to watch out is the "Enable crystal osc" setting, we need that on at all times. So these observations resulted in modifying the RF12.cpp file and re-define the following commands as follows:
// Update RF12 command codes so that they don't mess CLKOUT and Crystal osc
#define RF_RECEIVER_ON 0x82DC
#define RF_XMITTER_ON 0x823C
#define RF_IDLE_MODE 0x820C
#define RF_SLEEP_MODE 0x820C
#define RF_WAKEUP_MODE 0x820E
Then I wanted to specify the frequency to be output to RFM12's CLKOUT pin, this must be done gradually or the Tiny misbehaves: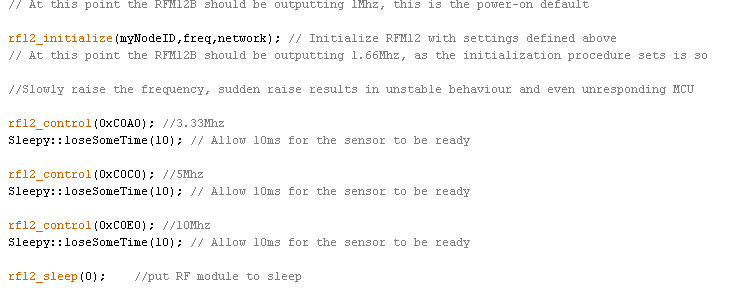 So with these small modifications, I now have externally clocked Funky . Running the Funky off crystal would mean reduced power efficiency, however I have provisions for micro USB powering and voltage regulator on the PCB, so powering the Funky from the grid or LiPo battery is possible.