Dave Berkeley's recent home power monitoring blog post got me thinking:
How much does a DIY power monitoring system cost
How accurate it is
I had a friend ask me how much my current power monitoring system costs. I really didn't had that calculation, so it was interesting to check myself too, here is my calculation:
Transmission part:
Arduino UNO at the breaker box: Cost €20
Sensing Shield ontop the Arduino at the breaker box: Cost: €15.50
RFM12B module for the Sensing shield: Cost: €7
Current Transformer: Cost: €12
Voltage sensor (AC-AC transformer): Cost: €16 (whoa!!!?)
Power supply: Cost €5
Arduino enclosure: Cost: €10
Total: €85.50
Receiving part:
NanodeRF: Cost €35
Power supply for the NanodeRF: €5
Total: €40
Total transmission and receiving components: €125.50
I will assume the hosting of the monitoring software is free, as I use the same server I host this blog, but that's a cost not to be neglected over the years.
That can't be good. Way too expensive, isn't it.
Regarding the accuracy of the system, it is probably not so important for hobby project, still Dave explains the inaccuracies caused due to the usage of transformers to monitor voltage.
With these two arguments, I thought I want to experiment with creating a dedicated device, based on Dave's work. The idea is to provide ADC measurements over isolated SPI and isolated power supply for whatever module needs to be attached to do the measuring (JeeNode or Arduino or NanodeRF and so forth). Combining most of the modules in one device will help cut down the cost.
This particular project involves high voltage, so I wanted (just as Dave) to have all safe and isolated. I have involved a friend (thanks Angel) to help me with the schematics and board layout.
The device will be named "e-meter". Here is the current schematic and layout: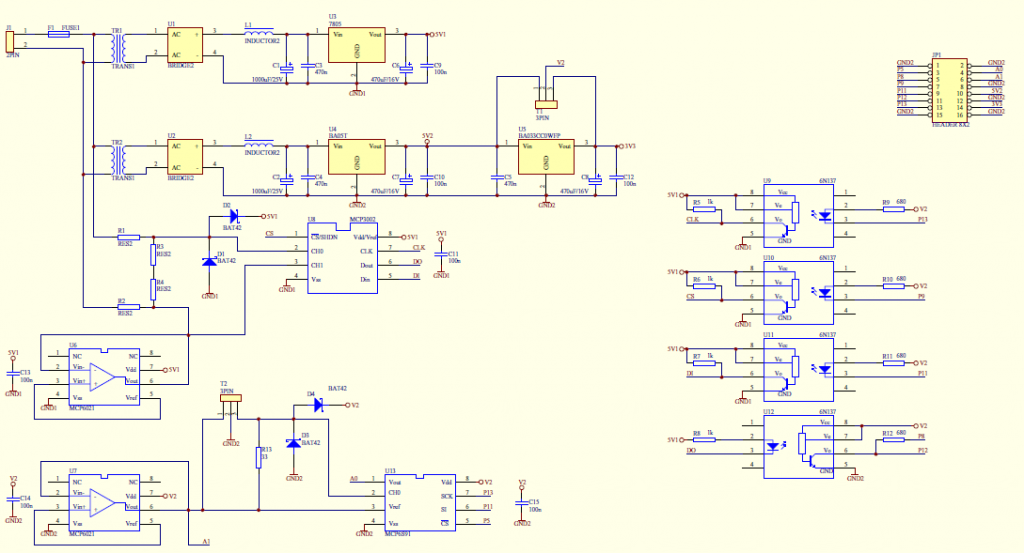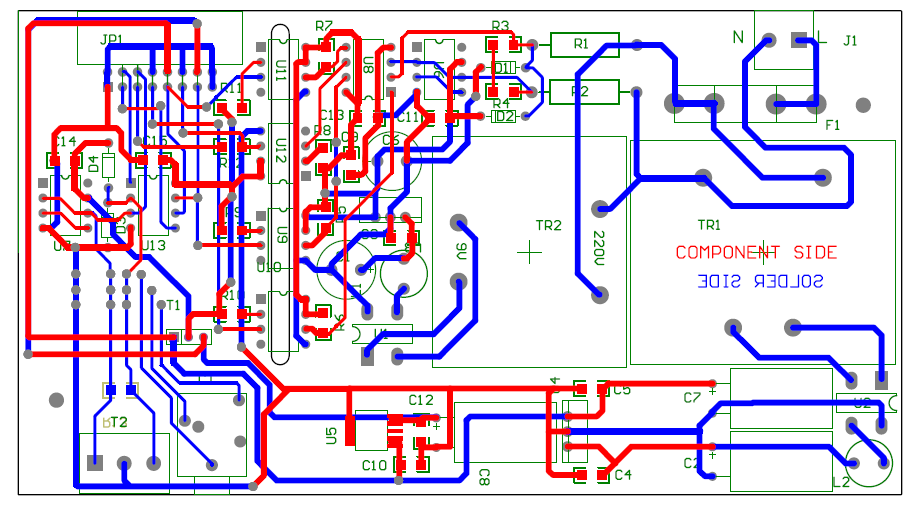 The layout is done in Protel, here are the above as PDF:  Emeter sch ; Emeter pcb
The device will be fitted in a box with DIN rail. We will be ordering prototyping version of the PCB to experiment.
Comments are welcome